Selling House Due to Ill Health
Suffering from an illness can be the reason why you might want to sell your house or flat, or if you're already ill and trying to sell your home it can add significantly to the stress of trying to find a buyer. Our guide offers thoughtful steps for how to sell your house during an illness.
Selling Due to Ill Health
Quick navigation
Illnesses are perhaps one of the least unpredictable but most disruptive factors that can affect your home sale. It can add major stress to the process of trying to find a new buyer, or it can be the trigger that prompts you to decide to sell. Whichever way illness might be affecting the sale of your property, this guide offers helpful tips for finding a reputable buyer quickly.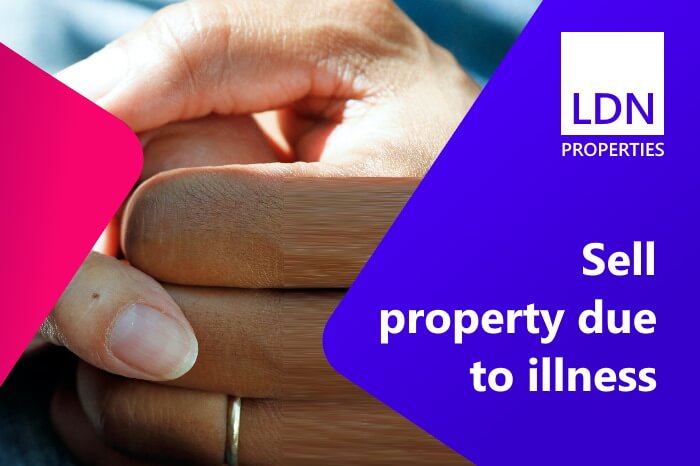 Why having an illness might prompt you to sell your home
If you have lived in your house or flat for many years, you might not be thinking about selling it. But then a sudden and serious illness can strike either you or a loved one, friend, or relative that might be living with you. If that's the case, you might find that you need to sell your property for one of several reasons, including that it's too big or you need to move to a care facility. The Money Advice Service has also published general guidance on taking care of money issues if you have fallen ill which you should certainly read.
Suffering from an illness, particularly one that causes physical mobility problems, can be the reason why people decide to sell their homes. If you have a large house you might now find it more difficult to get around the property, and moving to a smaller home – known as downsizing – can be a good idea. Having a place with fewer rooms and less overall space will make it easier to do all the tasks you need, such as using the kitchen and bathroom, and reduce the work involved with cleaning the home.
Another reason that you might want to sell your home because of illness is because you'd like or need to move into a care facility. This could be a retirement complex for elderly people if age-related illnesses are prompting you to sell, or it might be a need to move into an assisted living facility that is designed to help those suffering from particular major illnesses.
Either way, these types of residences can prove to be very expensive. One recent study, whose figures were verified by the charity Independent Age that provides support to older people, found that within the last year at least 17,000 pensioners had to sell their homes in order to afford the cost of residential care. Selling your home can be a great way to free up a lot of money that should hopefully cover these costs and take care of your future.
How suffering from an illness can make selling your property harder
Suffering from an illness often doesn't just prompt a need or desire to sell your home, but there are some instances in which this situation can actually make selling harder.
If you are taking care of the sale and talking directly to estate agents or auctioneers, but are also tired or otherwise negatively affected mentally or physically from your illness, it can make the entire process of trying to sell seem exhausting. There are so many different tasks involved for homeowners when selling that can be incredibly time-consuming and overwhelming at the best of times. When you are suffering from an illness these tasks become even more stressful and can cause you even more anxiety about trying to find a buyer.
Similarly, if you are not ill but are caring for a partner, relative, or someone else living in your house or flat, this can consume almost all of your waking hours. That leaves hardly any time to check in with estate agents or solicitors, which is something that you might have to do often when selling your home. That means your focus when trying to secure a potential buyer may be on finding the fastest possible option for selling so that you can focus on providing this care.
It might be tempting to wait as long as possible to sell your home, particularly with some news reports suggesting that property prices might increase in 2021. But for anyone suffering from a major illness, or caring for a loved one who is sick, being able to wait a long time before selling their property may not be a viable option.
We can also discuss options available to you when selling a property with sitting tenants, our detailed guide for selling a tenanted property discusses this further.
Options for selling your home due to illness
Thankfully, there are some options for selling your house or flat that will dramatically reduce the amount of time and effort that you have to invest in the process. That can be a huge relief if you are suffering from an illness or need to spend more time caring for someone who is sick.
Selling your property via an estate agent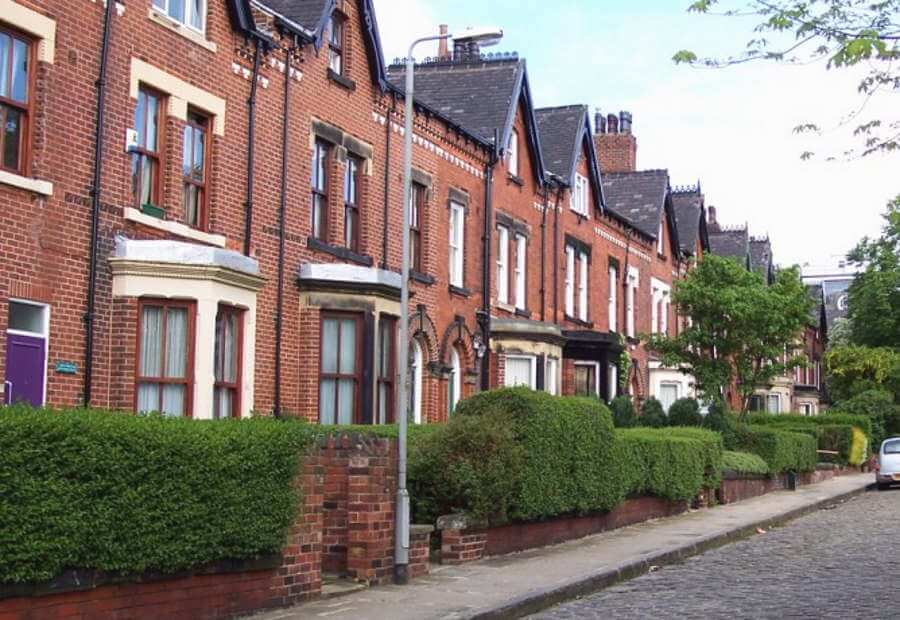 One of the most traditional ways to sell a home is to contact an estate agent. When you do this, the estate agent will write up a listing for your property that details its size and other features, along with plenty of photographs designed to show off your home at its best.
The estate agent will value your home, but beware that sometimes they will tell you an exaggerated price in order to get your business even when they know that they'll probably only be able to find a buyer at a lower price. Be sure to do your research on estate agents in your area and compare fees and ratings before making a final decision.
When you sell through an estate agent they will market the listing and try to generate interest from potential buyers. These people will then want to come on viewings to see your home, although when you or someone in your home is suffering from an illness that might not be possible because of health risks for visitors. Some estate agents do offer virtual video viewings of properties in such instances, and they are also in demand during the coronavirus pandemic.
One downside of selling through an estate agent is that there's no deadline for finding a buyer, and you're at the mercy of the property. Some homes have been known to sit on the market unsold for many months or even more than a year. This is not an ideal timeline when you're trying to quickly find a buyer so that you can focus on addressing the illness that led to the sale.
Your goal in cases of illness is likely finding a buyer as quickly as possible, and selling through an estate agent is not necessarily the speediest way to do so. Some houses and flats sold this way can sit unsold on the market for many months or even more than a year, at which point you'll have to spend valuable time and effort trying to discover why it's not selling.
Many people who have decided to sell their home because of illness simply can't wait several months to find a buyer, and that's why trying to do this through an estate agent is perhaps not the best choice because there's no guaranteed deadline for when you will sell your home.
Selling your property via an auctioneer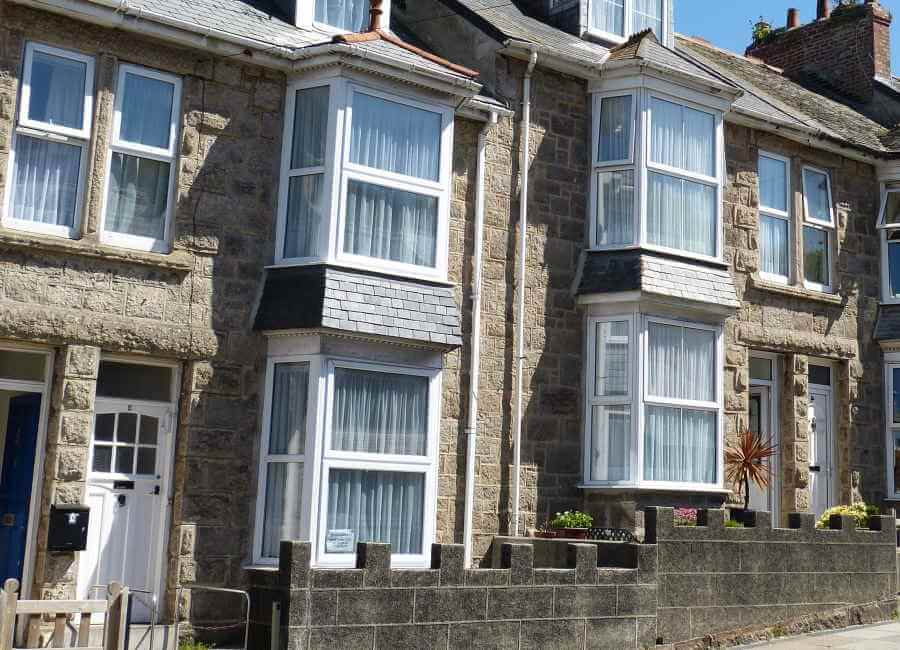 Another option for trying to quickly sell your home is using the
traditional method of auction
. An auction sale has its
pros and cons
however is relatively straightforward; an auctioneer will assess your home, suggest a price for the opening bid, and then hold the auction of your property on a specified date.
The reason why this can be a fast way to sell your house is because the auction will take place on a set day in the near future, providing you with certainty about when you'll be able to sell. A winning bid on a home is considered a legally binding agreement, meaning if the buyer tries to walk away from the sale you could pursue legal action to try to enforce the purchase.
Just know that selling through an auction can have some downsides. The primary concern is that you never know exactly what price you will be able to secure for your property – you might only achieve your set reserve price. For those homeowners seeking maximum profit from their home sale in order to help pay for the costs of dealing with an illness, selling via an auction might be considered to be too risky.
There are also some costs that the auctioneer will charge you for taking care of all the work involved with selling your home, but the good news is that the homeowner can typically pass these costs on to the winning high bidder rather than the seller having to pay the fees.
Selling your property due to illness via a fast home buyer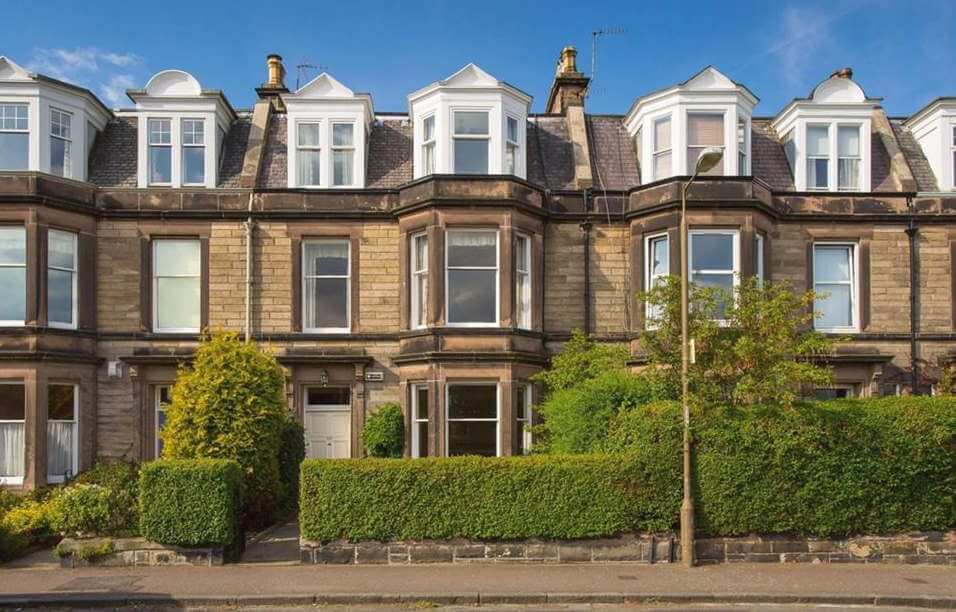 A proven speedy way to find a buyer for your house or flat is to contact a fast property buying company like ourselves. We can make you a fast cash offer to buy home and will never charge you any fees. Selling your house this way can provide you with the sale certainty you need when suffering from an illness.
We can typically complete the sale within just a few weeks and won't have to worry about viewings, or any potential buyers changing their mind and walking away from a sale before contracts are signed. When your goal is selling fast because of an illness, this can be your best choice.
Where to move after selling your house or flat because of illness
Once you have successfully sold your home, you need to think about where to move. Your choice will depend on your needs for coping with the illness that prompted the sale.
If you or your loved one has a severe illness with needs that can only be met by moving into a care facility, this will be your only viable option. Be sure to take your time to carefully review your options for places such as retirement homes and assisted living residences. Check the costs for anywhere that you consider and try to find a property that strikes the right balance between affordability yet providing a high quality of living.
Alternatively, if you do not need professional assistance at your next house then you might simply want to consider downsizing, which means moving to a smaller property. Your only restriction in this scenario will be ensuring that the house or flat you move into has less square footage than your current home and is easier to get around than your current property. You have a lot of flexibility in deciding exactly which type of home you want to buy next.
Frequently asked questions about selling a home whilst ill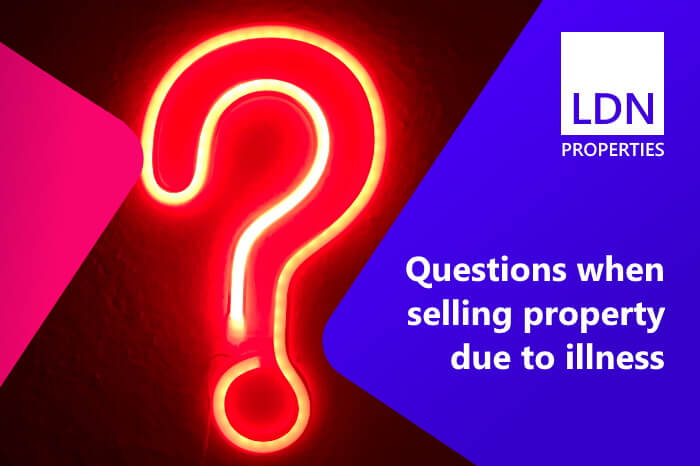 ✅ Will I have to pay money to sell my house during an illness?
There's no reason why you have to pay any money, depending on how you choose to sell. If you contact a quick property buying company then they won't charge you any fees. If you sell through an auctioneer or estate agent they will charge you costs, although most auctioneers will typically allow you to pass the costs of selling on to the winning highest bidder.
✅ How can I host viewings to sell my house if I have health issues?
If that's the case you will want to reduce your exposure to other people to the bare minimum. Having people over to view your home is not advisable and as an alternative to in-person viewings you can do a virtual video viewing for anyone interested.
✅ If I decide to sell to a fast home buyer due to illness, how can I know they're trustworthy?
Contact The Property Ombudsman (TPO), an independent organisation that provides oversight to the quick home buying market. It sets rules for its member businesses that they must follow and that are designed to protect homeowners from disreputable companies. Ask TPO whether the company you're talking to is a member, and check their credentials carefully.
✅ Once I've sold my house, how can I make moving to my new home easier?
Get as much work done early as possible in terms of packing boxes and throwing out unnecessary clutter. Get in touch with a well-rated but affordable removal company and explain your situation to them. Having a professional business on hand to help you transfer your belongings after you've sold your home will greatly reduce the work and stress with moving.
If you have decided to sell your house due to illness, our team is available to speak with you and arrange for a quick house sale. Having worked with countless customers over the years, don't hesitate to get in touch and discuss selling your property with us.
See what we can offer?
Let us show you what we can pay for your house
We're rated as Excellent
Reviews.co.uk provide independent reviews from other people just like you!
"Successfully sold two properties direct to LDN Properties in the last two years. Genuine and trustworthy people and the dealings were straightforward." – Thomas from London
Cash offer for your house

LDN Properties Limited, Linen Hall, 162 Regent St. London W1B 5TD
Company No. 04636129. ICO No. Z7733416. Ombudsman No. D12463.
Copyright 2003 to 2021