Sell my House with Subsidence
We certainly can buy your property no matter what the condition is. Even if you want to sell your house with subsidence or structural problems we can still offer you a solution for a quick direct sale.
Selling a house with subsidence
Quick navigation
If you're considering "selling a house with subsidence", we have answered a range of questions below that we hope will help. Our team is always available to discuss the sale of your house and explain how our home buying service works.
Selling a property with subsidence
If you're a homeowner looking to sell your property but have discovered subsidence, you might be concerned that it could cause issues or make it impossible. Don't let the presence of subsidence make you think that your house isn't saleable. Although there are additional factors you need to consider compared to selling a property without subsidence, you can still find buyers who will take on the risk and repair bills.
The experts at LDN Properties have years of experience buying properties that have subsidence or structural problems. It's not a barrier to sale, and we can make you a competitive offer – whether you have taken corrective action for the problem or not.
Spotting the signs of subsidence
Our quick video guide shows you some of the tell-tale signs to spot subsidence in your home.
What is subsidence?
Subsidence is generally defined as the situation when the ground underneath a property suddenly starts to sink, and does so without any uniform direction. The main cause of this phenomenon is unstable soil whether that's because of human activity (industrial processes like natural gas drilling and mining) or natural (changes in the water table below a house).
The result of the shifting soil means that part of the property will start to slump down into the ground. This can manifest in small ways, such as cracks appearing in walls or difficulty opening and closing doors or windows because the movement has altered their frames. Or it can present in major ways, such as an entire side of a house tilting downward.
Regardless of the scope of the damage, if you're looking to sell a house with subsidence the buyer's surveyor will be able to detect it. That means it's important for owners to acknowledge that the damage has occurred, and fully inform the buyer of what they know and any works they have done to tackle the issue. It is also possible you may see signs of dampness in your property too particularly if there are visible signs of subsidence.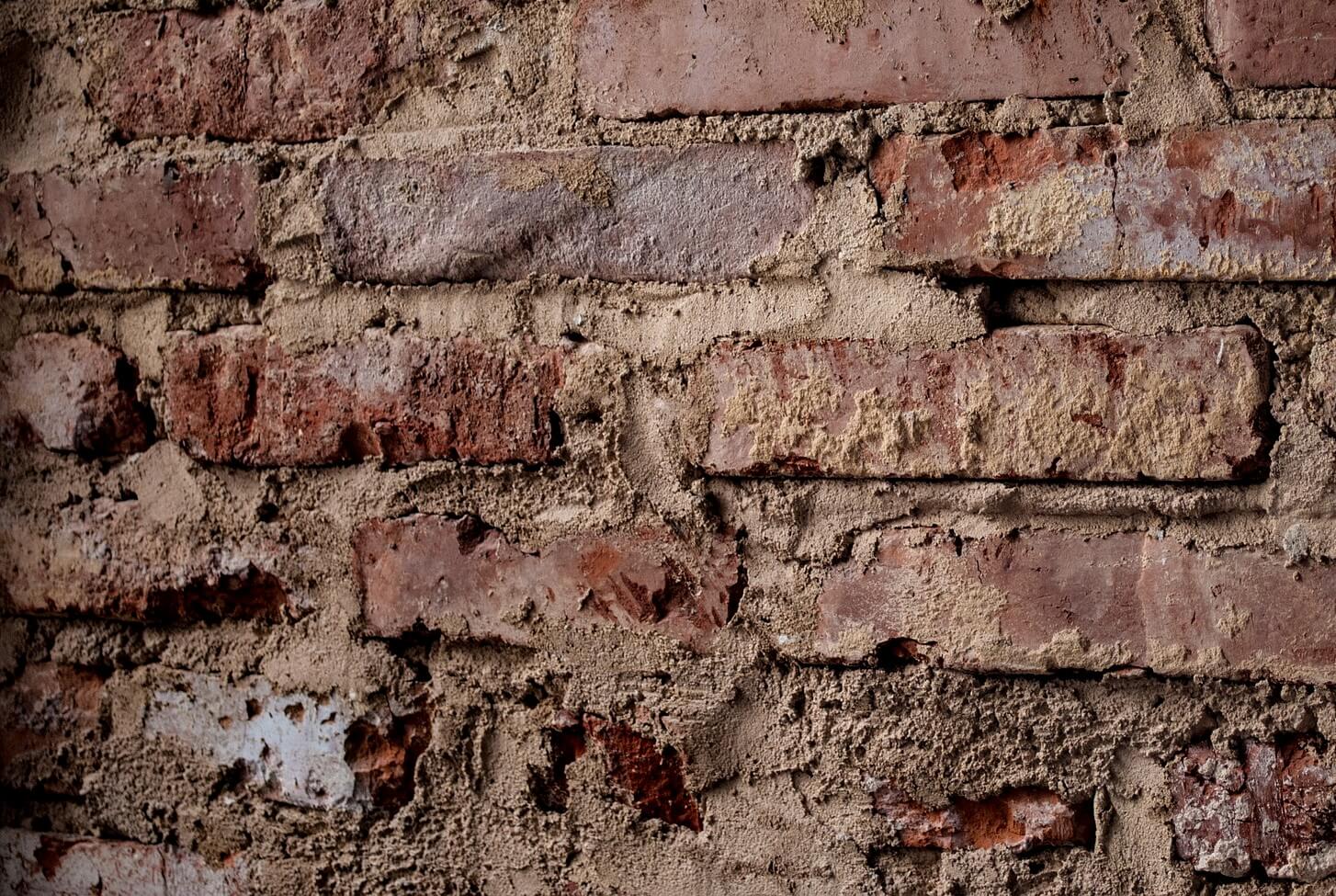 Steps to take before selling your house
Quite often before customers place their house on the property market, they seek to address the subsidence. Dealing with subsidence can often take quite some time to deal with as it is an iterative process of undertaking works and waiting to see if any more structural movement occurs. A chartered surveyor can often confirm that subsidence is occurring and recommend a remedial plan for dealing with the movement. Using the RICS website you can search for a surveyor.
It's possible that your home insurance policy will cover the work necessary to halt the subsidence. On this basis, you could choose to enquire with your insurance company as a first step. If you find you don't have suitable insurance cover, you will be responsible for the cost of repair works which will vary depending on the extent of the issue.
If the cause of the subsidence is found to be a physical problem such as a shifting in the soil due to a nearby tree, then it could be necessary to engage the specialist skills of a tree surgeon.
What exactly is underpinning
What typically happens in cases of subsidence is that you'll have to pay for a process known as underpinning. Think of this as an effective way to shore up the foundation of your property, but it can come with quite a large price tag so beware of the total cost before committing. Many trade companies specialise in addressing subsidence, so shop around for the best rate.
The length and scope of the work will depend on the severity of the subsidence. But underpinning generally involves excavating the ground around the area where the problem is occurring, and then pouring in concrete and establishing props to prevent further damage. This corrective work will ensure stability for your property going forward.
Solving subsidence through underpinning
If your property is suffering from subsidence, underpinning is one way to address it. In simple terms, this is work done by professionals to stabilise and strengthen the foundations of your house.
It's a multi-stage process that begins with a licensed engineer or surveyor confirming that there's a need to underpin the house to prevent any future subsidence.
Underpinning behind with an excavation of some of the ground to create spaces that will either be used for placing piles or beams that will reinforce the foundations, or to pour in concrete that will have the same effect. The best option will be a case-by-case determination.
Should your contractor determine that pouring concrete is the best choice, they will dig moulds into the ground and use steel wire to reinforce those moulds before adding the concrete. Once it's poured into the ground it will be left to solidify and set.
Alternatively, if it's recommended that piles or beams are used to reinforce the property, these will be inserted into bore holes in the ground on top of stable soil.
Regardless of which step is taken, the soil that was removed during the process of drilling and filling holes in the ground will typically be backfilled in the same place from where it was removed, and compacted to ensure that the soil is stable again.
After sufficient time has passed to know that subsidence has stopped, you can begin to do the exterior and interior work of cleaning up cracks and other damage caused by the subsidence. You should hold off doing this work until the underpinning is complete.
Underpinning: costs and time taken
Fixing major property issues like subsidence naturally costs money, and the larger the scale of the subsidence, the more money homeowners can expect to pay.
But there's no minimum or maximum guideline for how much it'll cost to fix subsidence, and it will depend entirely on the individual house in question and the scale of the damage. If you are liable for all the costs then you can expect to pay fees for the hiring of a surveyor to assess the property, the underpinning work, and any other associated costs.
Check your home insurance contract before attempting to correct subsidence, because sometimes insurance will completely cover all of the repair costs.
Can I still sell my property even with subsidence?
Of course. You do need to accept the reality that many buyers will not be interested in even viewing a home that is subsiding. You may want to make a start addressing the subsidence issue by implementing some initial corrective measures which may offer some comfort to a potential purchaser, or just allow a buyer to commence remedial works themselves.
As you consider the sale of your property it's important to acknowledge that the subsidence is often detrimental to your home's overall value and you may even struggle to sell. This means there are typically two ways to proceed that hinge on how quickly a sale of your home is needed.
If you do not have the insurance or funds to pay for subsidence treatment, and want to sell your house quickly, you will have to factor this into your expectations and accept that you will likely achieve a reduced price. The buyer will factor in the remedial works costs for the subsidence into their offer price for your property. Given specialist home buyers often have experience in dealing with subsidence and structural related issues, they can sometimes undertake works far cheaper than you are able to and consequently may be able to make a surprisingly attractive offer.
The main alternative option is to fund the corrective work yourself, whether through claiming it on your insurance of self-funding. This may then allow you to achieve a higher price and you will be able to tell buyers about the repair works that you have undertaken.
If you opt for treatment of the subsidence before looking to sell your property, it's imperative that you collect and maintain all documentation relating to the repair works undertaken by the contractor. This means keeping every single invoice, as well as other important paperwork including a written and signed statement from the contractor that they have completed the work, and a guarantee that the work has successfully fixed the problem. Your interested buyers will want to see this documentation as proof that the subsidence has been treated, and it also offers you a strong legal standard of evidence that the work has been completed.
Legal forms you will need to complete
As part of the conveyancing process for selling your house with subsidence you will be required to complete the necessary protocol forms provided to you by your solicitor. The following extract shown below is the section within the TA6 protocol form that you will need to complete accurately providing full information of the subsidence issues your house has experienced.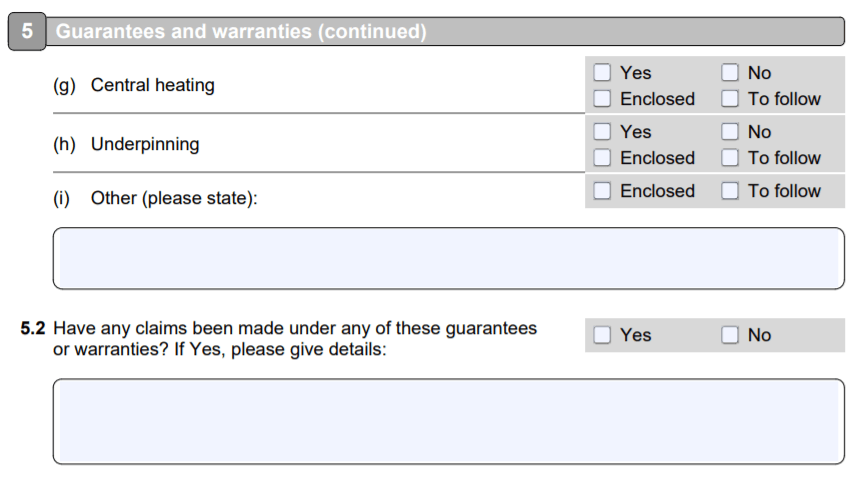 What can LDN Properties offer me?
We've purchased many homes that have experienced subsidence, whether the owners have funded repair work or sold the property "as is" without any hassle. Our cash offers are fair and reasonable and can help you sell your property in a fast and hassle-free way.
Call our team today at 020 7183 3022 to discuss your property further and request a free, no-obligation estimate for your property, or click to Request your Offer.
How to prevent subsidence
Thankfully, there are several steps that homeowners can take to prevent subsidence, with prevention being much cheaper than having to fix the problem. You'll likely pay much less for an initial outlay to stop subsidence happening to your house in the first place than having to fund a treatment to address it, and the work involved will also usually be much less complicated.
Two main ways to avoid subsidence are safe foliage and maintaining clear drainage. Either of these steps can make the difference between stopping the problem or suffering from it.
Drainage
Drainage is the simplest of the two steps and generally the rule is that you should ensure the drains at your property are always clear and not obstructed. Make sure to inspect your gutters on a routine basis to prevent any potential unwanted build-up of water. As part of these checks you should also regularly assess your plumbing inside and outside, so that you can tell if it's in perfect working order or if there's a leak that poses a risk of water damage.
If you water your garden, you should take steps to avoid getting any water near the house itself because preventing subsidence relies in part on not allowing water damage to occur.
Safe foliage
The other important step that homeowners can take to prevent subsidence is through ensuring safe foliage, meaning shrubs and trees in your garden don't risk creating subsidence of your house. Some foliage requires a lot of water and can essentially dry out the surrounding soil, making it unstable. This can lead to cases of subsidence from mild to extreme.
Although water damage like leaking pipes can be easy to see, it's harder to spot the potential for foliage to lead to subsidence because this will occur underground. A simple way to try avoiding foliage related subsidence of your house is to plant your greenery far from your property.
If you're buying a home, you might think it's wise to remove existing foliage that's located near the house in order to prevent the plants drying out the soil. But doing so can create addition problems and still lead to unstable soil conditions. Should you want to remove trees or plants, consult a professional who can do the work for you.
Alternatively, you can leave existing foliage in place but just remember to regularly prune it in order to slow its growth, which in turn lowers the amount of water the foliage needs.
Subsidence from a buyer's perspective
Buyers are sometimes wary of making an offer on a house if they know that it has subsidence, so it's important to know a few of the typical concerns that buyers might have.
A leading issue for potential buyers is that they might be worried that they will struggle to secure a mortgage for the house. It's not impossible to get a mortgage on a house with subsidence, however mortgage companies are going to want to see additional paperwork about insurance or corrective work in order to offer reassurance about lending you money for the house. A general rule is that if the subsidence is so severe that it's not possible for a buyer to get insurance on the house, they will also be unable to obtain a mortgage.
Buyers might also want to have their own surveyor assess either the damage or any corrective work done, so when selling your house be prepared for buyers asking about this ahead of a sale.
A potential buyer could also use the presence of subsidence to reduce their offer price. If you've taken corrective action it could be possible to counter such an effort by pointing to your investment in the work done, with the contracts for the work providing the necessary legal proof. But if you are selling your house without fixing the subsidence, you should know that some buyers will try to cite that as a reason for asking you to accept a lower sale price.
Selling your home – Questions you have
We want to make sure our customers have answers to all questions before deciding the next steps to selling their house.
Your questions answered when selling a house with subsidence
✅ How do I know if my house is subsiding?
Often the signs of subsidence are apparent to the naked eye and you can typically see stagger lines running across the brick work where the structural movement has occurred. A surveyor is often advised to fully appraise the situation and provide a professional opinion.
✅ Will LDN Properties buy my property if it is subsiding?
Yes, as a specialist home buying business with experience of purchasing properties with structural problems and subsidence concerns, we are typically able to make you an offer in the usual time frame.
✅ Will you still buy my property fast if it has structural movement?
As we are a professional home buying business and have purchased numerous homes with structural defects and subsidence, we can often move quickly and at a timescale that suits you no matter what the complications are with your home.
See what we can offer?
Let us show you what we can pay for your house
We're rated as Excellent
Reviews.co.uk provide independent reviews from other people just like you!
"Successfully sold two properties direct to LDN Properties in the last two years. Genuine and trustworthy people and the dealings were straightforward." – Thomas from London
Cash offer for your house

LDN Properties Limited, Linen Hall, 162 Regent St. London W1B 5TD
Company No. 04636129. ICO No. Z7733416. Ombudsman No. D12463.
Copyright 2003 to 2021