Part exchanging your home
Part exchange occurs when you effectively trade your existing house as partial payment toward a newly constructed home, and if you're thinking about doing it there's some key tips to follow.
Quick navigation
One path forward available to you if you're considering buying a new build is to enter into a part exchange. This is an agreement though which you commit to buying a newly constructed house or flat from a developer once it's completed and as part of that pact the developer will purchase your existing property and deduct that value from the price of the home that you're buying.
This means you only have to pay the remaining amount of money, which can significantly reduce the cost of moving to your new home. But before you decide to sign up for a part exchange you should read the below guide which offers further details on the specifics of this approach, including eligibility criteria as well as the potential pros and cons.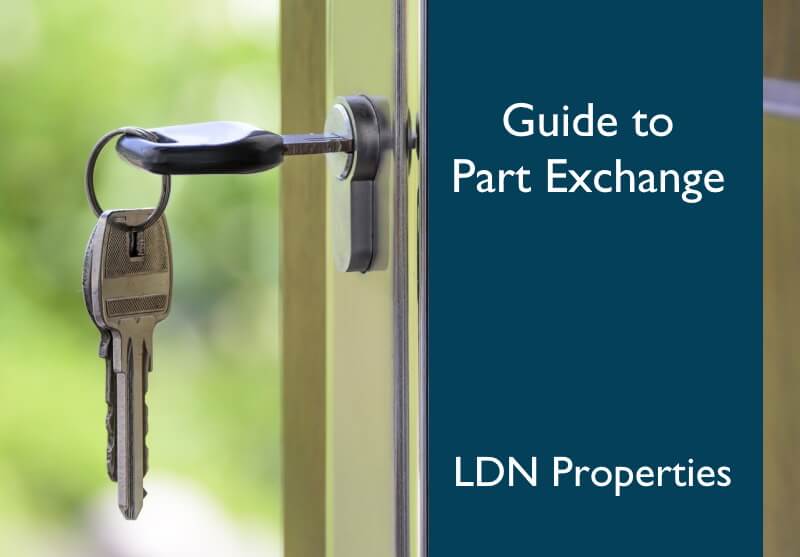 How is part exchange defined?
Part exchanges refer to agreements through which someone buys a newly constructed house or flat by a developer and sells their existing property to the developer. The developer then deducts the sale price of the current home from the cost of the house that they are constructing. It's a part exchange because you're exchanging your current home for part payment toward the new home.
It can be a popular choice for people who would like to quickly move home and not have to worry about listing their property for sale through an estate agent, which is a process that can take several months or even more than a year in some situations.
And it's popular with property developers because by signing up for a part exchange agreement they have a committed buyer for the new house or flat they are constructing.
Who qualifies for a part exchange?
There are no formal government-issued rules for part exchange, and each developer can have their own requirements for when they will accept such an agreement. That's why you need to talk to the developer to find out how to be eligible for a part exchange plan.
But there are some common elements among part exchanges that most developers and homeowners will have to satisfy. These requirements include but are not limited to:
You must own the house or flat that you would sell in the part exchange
Your current home must be valued at about 65-75 percent of the new home's price
For leasehold properties, the lease must typically have at least 80 years remaining
The existing property should be in a decent condition without structural flaws
There are other factors that can affect eligibility for part exchanges, including factors such as the style of the house, its location, and other issues that might be a barrier to such an agreement.
Also it's useful to note part exchange agreements are typically most suitable for those homeowners who are looking to upsize, which means moving into a house or flat that is larger than their current property. In contrast part exchanges are not that useful for people who want to downsize their home, or move into a smaller home. That's because the home they are selling will typically be worth more than the property they want to move into, whereas part exchange agreements often will leave homeowners owing at least some money to the developer.
The basic process for a part exchange
Part exchanges are relatively straightforward, particularly compared to selling a home and buying a new property for more complicated processes like a home sale chain.
The first step that you need to take is finding the new house or flat that you'd like to buy, and once you've found that property you need to ask the developer if they will do a part exchange.
If so, the developer will assess the value of your existing house, typically seeking input from at least two independent estate agents or other professionals who can quote them a selling price. The developer then uses this information to make you an offer to purchase your home.
Should you decide to accept the price that the developer is offering you, you can deduct this value from the price of the newly constructed home that you want to buy. Then you should organise your mortgage to cover the rest of the cost of the new property (and to repay any of the previous mortgage).
Once the funding is in place, your solicitor or other legal professional will take care of the various complicated legal steps that will be involved in selling your house.
You might have to pay the developer what's known as a reservation fee for the new property if they require one. And you'll also have to pay the developer a deposit of usually 10 percent of the purchase price of the new home once you sign, or exchange, contracts for the sale and purchase. After this has happened the sale can formally be completed.
Benefits of pursuing a part exchange
A major benefit of a part exchange agreement is the fact that you can generally get a very quick and straightforward house sale and an easy way to move into your new home.
By making a deal with the developer of a new property, the homeowner benefits because they have a guaranteed buyer for their current home. This alleviates the need for trying to sell the existing house through an estate agent, which can be a very lengthy process. And it's also a benefit for the developer because it means they also have a committed buyer for the home they're building.
Avoiding the services of an estate agent also means that you won't have to pay any fees for selling your home to the developer, helping you cut down on the costs of moving.
Nor will you have to host any viewings for your house as you would otherwise have to do if you tried to sell it through an estate agent or by using the services of an auctioneer.
And you can completely avoid the risks of entering a property chain through which your home sale and purchase of your next property is reliant on another home sale. Therefore you can remove a lot of the stress of selling and moving home by entering into a part exchange.
Potential drawbacks of a part exchange
Although there are many benefits associated with a part exchange, there are also some potential negative aspects that you should know about before making such an agreement.
It's possible that you could get roughly 5 to 10 percent less in value for selling your existing house or flat compared to what you might be able to get selling the same property through an estate agent, at an auction, or using the services of a fast home buying company. This can be disappointing if you want to make as much profit as possible from your home sale, particularly if you've looked on property sites like Zoopla and have seen houses in your area selling at high prices and hope to get a similar value for your property.
Also, not all houses and flats can qualify for part exchange because developers might not have any interest in purchasing certain types of properties.
Most developers will also require that your existing house be worth between 65 and 75 percent the value of the new home. If your property does not meet that threshold then you might not be able to enter into a part exchange, which can be a stressful outcome. For example, developers consider leasehold flats with short leases to be less valuable than other types of homes.
Newly constructed houses can also lose value after they first sell, because they tend to be priced at their maximum value when they are first made available for sale. This means your property might lose some of its overall value after you have moved into the new home.
One common drawback of new build houses currently is that they tend to be smaller overall than older properties, with rooms that have less square footage and reduced-size driveways and gardens. These attributes could make it harder for you to sell the house in the future.
Alternative ways to sell your home instead of a part exchange
If you have been contemplating a part exchange but have read the above guide and are curious about other options for selling your house or flat, you have at least three possible choices.
The first is to try selling through an estate agent. The pros of this approach include the fact they will do all the strenuous work involved with selling your home, including writing the listing for the property, finding potential buyers, and organising and hosting viewings. But there are also some downsides from selling this way. Estate agents will charge you fees for selling, and you'll have to deduct those from whatever final sale price you are able to secure. And you face a very uncertain timeline for selling using an estate agent. In worst case scenarios some houses and flats have been known to be on the property market for several months or more than a year.
Alternatively you could try selling your house or flat at a property auction. Similar to selling through an estate agent, a benefit of using an auctioneer is that they'll handle most of the work involved with marketing and selling your home. But there are negative aspects to selling this way, including the fact that because it's based around people bidding on your home, there's no guarantee of what the final sale price might be. This can be problematic if there's a specific price that you need or want for your house. And you will also have to pay the auctioneer fees for selling your home, though you might be able to pass these on to the winning high bidder.
And a third option is to sell your house to a fast property buying company such as LDN Properties. They'll give you a competitive and speedy cash payment for your home, typically helping you to complete a sale within just a few weeks. And another benefit of selling your house fast in London (or elsewhere in the country) this way is that the reputable quick property buyers will never charge you any fees for selling to them. As a result you can keep all of the profit that you make from selling your house using this option. Make sure to ask your quick home buyer questions to make sure they are right for you.
Frequently asked questions about a part exchange
✅ Will a developer accept any type of home for a part exchange?
No. Every developer will have their own individual requirements for what they will, and will not, accept for a part exchange. Houses and flats with unusual features or physical problems such as structural flaws could be rejected for a part exchange. Similarly, some developers might refuse to do a part exchange for a freehold flat or those with a short lease. Be sure to always check with the developer at the very start of the process about what types of homes they will accept.
✅ Why is a part exchange considered preferable to a property chain?
Because it gives both you and the developer a simple property deal that removes the need to rely on other homeowners in a chain successfully completing sales or purchases in order to clear the path for you to buy and move into your new home. A part exchange dramatically simplifies this situation because you'll simply make a deal with the developer for them to buy your home and deduct that purchase price from what is payable for the new house.
✅ Is a part exchange the quickest way possible to sell my home?
Not necessarily. Part exchanges are definitely quicker than selling through either an auctioneer or an estate agent, particularly the latter option which has no deadlines for completing sales or finding buyers and can leave you with an unsold house for many months. But perhaps the speediest way to sell your home is by contacting us as we can offer you a generous no-fee cash payment for your house and complete the sale in just a few weeks.
✅ What are the questions that I should ask a developer when doing a part exchange?
There are several important questions that you should consider asking the developer whenever you are thinking about a part exchange agreement. Some of the typical queries include: What is the maximum price the developer will give you for your existing home? Will there be any fees associated with the part exchange? Is the developer open to negotiating on the purchase price for the newly constructed property? And any other questions you might want to ask.
✅ Will I have to pay fees when using a part exchange?
Possibly. As you'll see from the above list of suggested questions to ask the developer, you should check whether they will charge you any fees for entering into a part exchange. If they do plan on charging fees, you should possibly consider another option for selling your house. For example, if you sell your flat or house to a fast property buying company they will not charge you any fees when buying your home.
See what we can offer?
Let us show you what we can pay for your house
We're rated as Excellent
Reviews.co.uk provide independent reviews from other people just like you!
"Successfully sold two properties direct to LDN Properties in the last two years. Genuine and trustworthy people and the dealings were straightforward." – Thomas from London
Cash offer for your house

LDN Properties Limited, Linen Hall, 162 Regent St. London W1B 5TD
Company No. 04636129. ICO No. Z7733416. Ombudsman No. D12463.
Copyright 2003 to 2023