Downsizing Your Home
People choose to downsize their home and move into a smaller property for main reasons, and if it's something you're considering then there are a few crucial issues you should know about.
Quick navigation
If you're thinking about selling your house or flat and moving into a smaller property, you are thinking about downsizing. It's the term used to describe what happens when you want somewhere with less space, and it can happen for many reasons. And it contrasts with upsizing, which happens when someone sells their house to move into a bigger property.
Selling your home and moving to a new house is a major decision and there are many pros and cons to consider as part of the process. That includes choosing to downsize your home because there are important factors to consider, including pros and cons. The guide below summarises all aspects of downsizing along with advice on how to sell your home.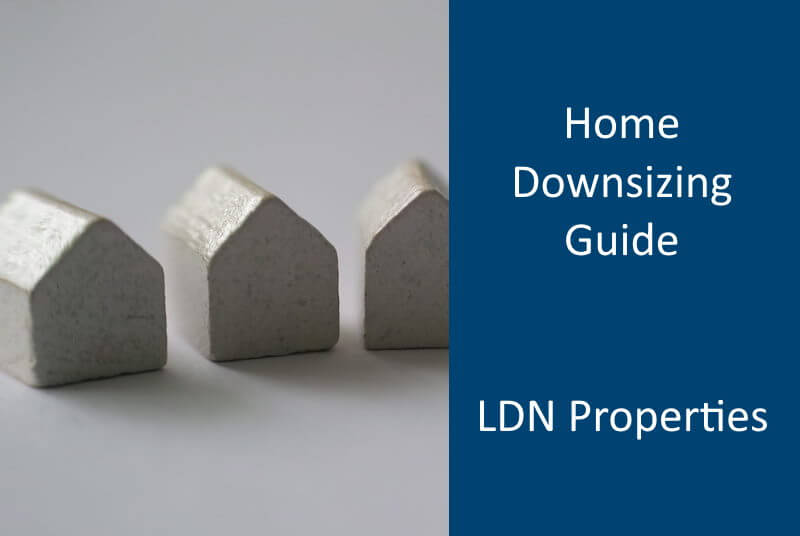 What is downsizing?
The generally accepted definition of downsizing is the one used by the Cambridge Dictionary as "the practice of moving to a smaller home, usually because your home has become too large for you or as a way of saving money," which is an accurate description for most scenarios. The opposite scenario is know as upsizing – where you are in need of a larger home.
If you are thinking about downsizing your home then the most likely explanations are either that you need money or you have realised you don't need a house or flat that is as big as your current home.
What are the reasons why people choose to downsize?
What the dictionary definition of downsizing fails to account for is the various reasons for why someone might suddenly no longer need such a big house. And there are a myriad of situations in which a homeowner wants to move to a smaller property.
For example, if an elderly couple needs assistance and can no longer manage living in their current home then they might want to move into a nursing home or other assisted living facility, meaning they will be downsizing from their existing house.
Or if one partner in a couple dies then the other might no longer want to live in the house that they shared, or may not need as much as space. They could downsize by selling that property and moving into a smaller flat or house to suit their needs.
Divorce is another major family situation that can lead to downsizing, because if a couple splits up then at least one partner will definitely have to move out – even if one half of the couple buys the other out and remains in the existing home.
And of course financial reasons can be another justification for downsizing. Perhaps you need to raise some cash to pay off debt and selling your home is the only viable option, or perhaps you realise you can save money on utilities by moving to a smaller property.
What options are there for selling your home when downsizing?
There are typically three options for selling your flat or house when downsizing; using an estate agent, selling at auction, or selling to a fast property buying company.
Using an estate agent
The most traditional choice for selling your home is using the services of an estate agent. They will have a good knowledge of the local property market, which can be an advantage when trying to find a buyer. An estate agent will also handle most of the hard work involved with selling your house, such as writing a listing for the property, organizing viewings where prospective buyers come to tour the home, and taking care of the start of the sale process, among other work.
Whilst having someone else take care of all of the above work can be a huge relief for homeowners, you should remember that selling through an estate agent has no deadlines associated with it. In worst case scenarios a property could be on the market for more than a year. If you are eager to move within just a few weeks then you likely won't be able to achieve this with an estate agent unless your home is in incredibly high demand.
Further, you'll have to pay an estate agent fees for all of their work and you'll therefore have to deduct these costs from whatever final sale price you able to secure. This means you don't get to keep all of the profit from selling your house because the estate agent will need to be paid their share. If financial concerns are your primary reason for downsizing then selling through an estate agent is not the best choice because of the fees associated with it.
Selling at auction
An alternative to selling through an estate agent is using the services of an auctioneer. They will do similar work to an estate agent in listing and marketing your home and generating interest in it ahead of the auction day, meaning you won't have to do any of those tasks.
If you're looking to sell in a hurry then this can be a great choice because the auction day is a specific date when your house or flat will sell to the highest bidder. When someone makes the top winning bid, that's considered a legally binding obligation to buy your property.
But the nature of bidding means that auctioning creates significant uncertainty about how much money you will get for your house. Auctioneers try to convince homeowners to set opening minimum reserve prices that are lower than the price people actually want to get for selling their properties in order to generate interest. However, there is no promise that this competitive bidding will actually happen and some homeowners have had to settle at auctions for less money than they wanted for their houses.
Another factor to consider is the fact that auctioneers will charge you fees for doing the work of selling your home, although you can typically pass these on to the winning high bidder. That means you get to keep all of the profit from the sale of your house if you can pass on the fees.
Selling to a fast property buying company
A third option for downsizing is to get in touch with a fast property buying company like ourselves. We work by giving homeowners the chance to get a speedy payment for selling their house or flat with sales typically completing in a matter of weeks. For those people looking to sell their house to a tight schedule, this can be a good option.
In addition to helping you get a speedy sale of your home, the reputable quick home buyers will never charge you any fees for selling. As a result you will get to keep all of the profit from selling your house or flat. If you need to maximise how much money you make from selling your property, this makes a fast home buyer a good option.
Are there any benefits from downsizing your home?
One of the clearest benefits of selling your house and downsizing is the fact that you will be able to raise money and hopefully enjoy as much of the profit from selling as possible.
Another perk of downsizing is the fact that your utility bills should be much lower than in your current home. Utilities include essential services such as water, electricity, the internet, and more and are typically paid on a monthly basis. The general rule is that the larger your house, the higher your utility bills will be because these properties use the services in greater amounts. Smaller homes have lower overall utility bills, and so downsizing will save you money by reducing your monthly expenses compared to your current home.
And unless you have to use all of the proceeds from selling your existing property to pay off debt, downsizing typically means you'll be moving into a home with a lower sale price and that should result in you having leftover cash from the sale. You can use these funds for whatever you would like, whether that's renovations at your new home, a holiday, luxury items, or more.
Downsizing also has the benefit of giving you as much time as you need to find your ideal next home unless you need to sell quickly to raise funds. Rather than rush into purchasing a smaller property, you can take your time until the ideal home appears on the market. The same applies to finding a retirement home if that's your intended plan after downsizing.
Does downsizing your home have any cons?
There aren't too many negative consequences from downsizing your home, but depending on how quickly you need to sell you might be facing a bad property market which can decrease the amount of money you'll be able to get by selling your house or flat. If you're looking to downsize you should keep tabs on the latest property prices in your neighbourhood by checking websites such as rightmove that list current home sales in your area.
You might also have to spend a lot of time searching for your next, smaller home when downsizing until you find the right house. Spending many hours searching online for properties and then traveling to various homes to view them ahead of potentially making an offer can be a very stressful and tiring process, but a necessary one when moving to a new house.
Another potential drawback of downsizing your home is the fact that even once you have found your next ideal house or flat there is no promise that the sale will complete. The buyer could withdraw at the last minute before contracts are signed, or exchanged, and become legally binding. Because there is no legal mandate in place that the buyer follow through with the sale until contracts are exchanged, you'll have no choice but to restart the buying process. The time and stress involved with all of this work can be a huge negative for many people.
Top questions about downsizing your home
✅ Is downsizing your home always considered to be because of something problematic?
Not at all. There are some negative life situations that can lead someone to want to downsize, including divorcing their partner or a death in the family that means they no longer need a house as big as their current home. But there are many positive reasons for downsizing, including a realisation that you don't need as much space as at your existing property, because of a change in location due to a promotion at work, and many other good outcomes.
✅ Will downsizing save me money or cost me money?
Typically you'll find that downsizing is a great way to save money. If you are selling to raise funds and pay off debt then you will be able to achieve this goal by downsizing and no longer have the expense of having to deal with that debt. Even if you're not selling to raise money you can still save funds in the long run by downsizing because your monthly utility bills for services like electricity and water will be lower, as smaller homes use less of these resources.
✅ What's the quickest way to sell my home when I want to downsize?
A good choice is contacting a fast home buying company because they can offer you a quick and competitive cash payment for selling your house or flat. And the reputable fast home buying companies will never charge you any fees. That compares very well to an estate agent where there is no deadline for finding a buyer, and some properties can unfortunately end up on the market for many months or even more than a year. Another way to get a quick sale is through a property auction, but there's no promise you'll get a decent winning bid for your home on auction day. To receive a committed cash offer for your property, contact the team here at LDN Properties.
✅ Will I have to spend anything to downsize my house?
You don't have to. If you're downsizing and decide to sell your house or flat through an estate agent or an auctioneer then you will have to pay them fees for taking care of marketing and selling your home, although you can typically pass the auction fees on to the winning bidder. But you can easily avoid having to spend anything when downsizing by contacting the team here at LDN Properties, because we'll give you a speedy cash payment for your home without charging you any fees. That means you not only get to complete a sale within just a few weeks and accelerate your downsizing, but also that you get to keep all the profit from the sale.
✅ Should I take all of my existing belongings to my downsized home?
You should look at downsizing as a fantastic opportunity to reduce the clutter in your home and throw out, sell, or donate any belongings, furniture, and other items that you no longer need. Downsizing can be a great way to streamline your possessions so that you're only taking your essential items to your new home. This also protects against having too many items in your smaller new house, which would otherwise make it feel cluttered from the day you move in.
See what we can offer?
Let us show you what we can pay for your house
We're rated as Excellent
Reviews.co.uk provide independent reviews from other people just like you!
"Successfully sold two properties direct to LDN Properties in the last two years. Genuine and trustworthy people and the dealings were straightforward." – Thomas from London
Cash offer for your house

LDN Properties Limited, Linen Hall, 162 Regent St. London W1B 5TD
Company No. 04636129. ICO No. Z7733416. Ombudsman No. D12463.
Copyright 2003 to 2021