Divorce and Separation
Divorce or separation is always a stressful time and it has significant implications for trying for couples looking to sell a shared home, so it's important to know the best way to proceed.
Quick navigation
When married couples, or couples that live together, break up it can cause much tension not only on a personal level but also in trying to resolve how to handle the shared home. If you're in this situation then you have various options ranging from selling the house, one of the couple buying the other out, and a range of other ways that you might want to proceed.
The guide below offers important information on different outcomes for the ownership of a house or flat for a couple that is separating or divorcing. And it provides advice on the several choices you have for how to proceed with selling your home if that's what you decide to do. Knowing these facts can help to ease your stress during what is a highly emotional time.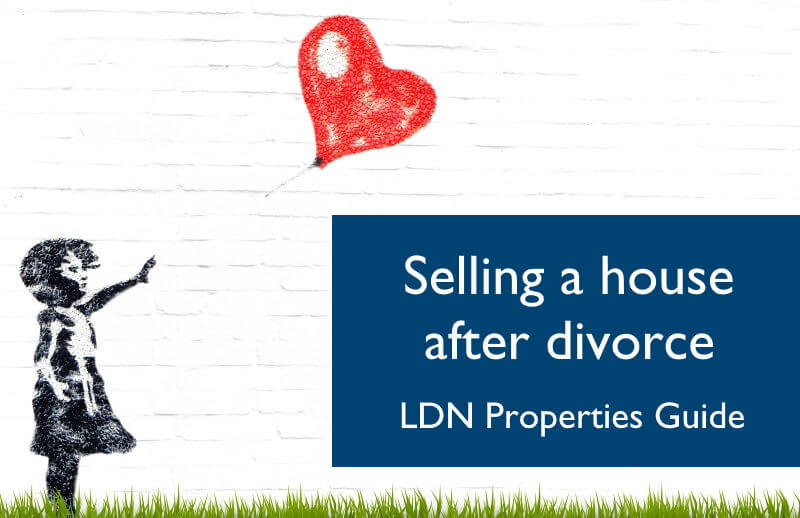 What happens to home ownership when a couple divorces or separates?
Recent reports suggest that online searches by people wondering how to get a divorce are rapidly increasing across the UK, driven in part by stress caused due to the coronavirus pandemic. Should you and your partner be among that rising number of couples seeking to separate, one of the biggest issues that you'll have to tackle is deciding what to do with a house or flat you currently live in if you own it together.
If you have bought a house with your partner, regardless of whether there are still mortgage payments left to be made or if you've paid off the debt, then that becomes an asset that you'll need to decide how to divide in the unfortunate event you separate or divorce.
Given the sometimes complicated legal and financial aspects involved with this situation, it's advisable to try and stay on decent terms with your ex-partner to simply the sale process.
Proceeding with a house sale as the result of a separation can be slightly more complicated compared to a conventional home sale, because there are several different possible outcomes. If possible, you should talk with your partner sensibly about how to proceed with your property, including discussion of whether one of you retains the home or you decide to sell it outright.
What are the options for resolving property rights in a separation?
There's not a single rule for how to proceed when a couple owns a house or flat together and separates. Options that you have available including trying to quickly sell the home and split the proceeds, waiting to sell, and other steps. The most common situations are described below.
Keep ownership of the house and wait to sell – This can be a good choice if neither you nor your partner need to sell the home quickly to raise funds or for any other urgent reason. Waiting to sell allows you to hold off until the property market is perhaps more favourable. This option is common with couples that have small children and who don't want to cause their kids any additional stress by adding a house move on top of a separation.
Buy the other partner's share of the home – If you jointly purchased the house and are both listed on the mortgage, one approach you could take is to buy your partner out. This would give you complete ownership of the house and then it's entirely at your discretion when you decide to sell. But this option is only rational for people who have the financial resources to buy their partner out and who know they can still meet the monthly mortgage payments after doing so.
Sell the house and split the proceeds – This is often considered the most common response to a couple separating. They both want to move out of the house or flat that they shared and decide to sell it as quickly as possible even if this means selling at a loss. Under this approach, once the house sells and the contracts are signed, or exchanged, both you and your partner can divide the profits evenly.
When you're deciding how to advance with the sale of your home, take into account the above options and assess your financial, personal, and other needs and situation. This will help inform you about which is the best possible option for your individual requirements.
Everything you need to know about "Mesher" orders
Another possible outcome that you might want to discuss with your ex-partner is obtaining a "Mesher" order from a court. These orders are a way for you to retain ownership of your current house or flat until a specified action happens in the future.
One example of the type of events that would be covered by a Mesher order include a provision that says when either you or your partner remarries then the sale of your existing home will be triggered. Or alternatively a Mesher order can be much simpler and specify a precise day for when the sale of your home will happen, rather than selling it instantly.
Once a Mesher order is in place the terms of that directive are binding. Whenever the specific event or date specified in the order has occurred, the house or flat will be sold. You and your partner will then split any profit from the sale in line with the terms of the order. It can be a good choice if you'd like to delay selling the house whilst you focus on finalising the separation.
Options for the best way to sell your home after divorce
If you and your separating partner have decided to sell your house or flat fast in London (or anywhere else in the UK) or even if you are selling a tenanted property, you probably want to secure as fast a sale as possible so that you can both move on with your lives. But depending on which option you choose for selling your home, the amount of time it will take to find a buyer can vary quite a lot.
Review the three leading options below to see which is best for your individual situation based on key factors such as how quickly you need to sell and how much profit you want to male.
Selling to a fast property buyer
If you're eager to sell your home quickly, your best option is likely to contact a quick property buyer, as they can typically help you complete the sale within just a few weeks.
These businesses offer homeowners a way to get a straightforward and hassle-free sale of their home, offering generous cash payments for all types of houses and flats. And the honest fast home buying companies never charge homeowners fees for selling their properties, which means you and your partner will get to keep all of the profit from your home sale.
And thankfully it's very easy to verify whether or not a fast home buying company is reputable. The trustworthy businesses are registered with The Property Ombudsman (TPO), an independent entity that is responsible for oversight of the quick property buying industry. Members of TPO must follow the rules that the organisation issues that are designed to protect homeowners against scams when selling. Simply visit TPO's website and enter the name of a fast house buying company — if they are listed as registered members you can trust them because they have to adhere to all of TPO's policies, and if they are not listed then you most likely not pursue a potential sale with that company.
Here at LDN Properties we are registered with the TPO and seek to provide our customers with an exceptional service at every stage. We are happy to provide you with a no commitment and no fee offer for your property, contact us today on 020 7183 3022 or request an offer online.
Selling using the services of an estate agent
This can be quite a time-consuming way to sell your house, so if you are looking to complete the sale in a hurry then it might not be the best option for you. Some homes sold through estate agents can sit unsold on the market for several months or even longer.
In addition, estate agents will charge you fees for the work that they do in promoting your home to potential buyers, hosting viewings, and trying to secure a sale for you. That means you'll have to subtract the estate agent's fees from the total profit you make from selling your house.
However, there are certain perks of using an estate agent, not least the fact that they will do all of the hard work involved in trying to find buyers and convincing them to make an offer. If you are already having a stressful time because of a separation, it can be a huge relief to have someone else do the heavy workload involved with trying to sell your house.
And you'll have to open your home to viewings when selling through an estate agent. Your estate agent will arrange for prospective buyers to come and see your home to assess whether they want to purchase it. This means you'll have to constantly keep your house or flat in ideal condition to make the best possible impression on buyers when they come to visit. That can, for some homeowners, add unnecessary stress when trying to sell during a separation.
Selling your house or flat at auction
There's a third option for selling your home, which is selling it at a property auction, but this can be a somewhat risky choice if your priority is maximising your profit from a sale given a sale can take price at any level starting from your reserve price.
You will also have to pay the auctioneer fees for the work they do in taking control of the sale, so just as with selling your home through an estate agent you'll have to deduct these fees from the final winning bid. However, it can be the case that a homeowner who has sold their home at auction is able to pass the auctioneer fees on to the winning high bidder. There is also a different kind of property auction to consider called the Modern Method of Auction that may be more appropriate than a traditional auction.
Top questions about separation/divorce and selling your home
✅ What's the quickest way to sell my house or flat when separating from my partner?
Your best choice can be to get in contact with a fast property buying company such as LDN Properties because they specialise in making fast cash offers to buy houses and flats and can typically complete a sale within a few weeks. That compares very favourably to an auction that could be many weeks or months in the future, and to selling through an estate agent which is the slowest way to sell because there are no deadlines associated with it nor any guarantee of quickly finding a buyer.
✅ Is it required that separating couples jointly divide the house and sell it?
No. There are several options available to you for deciding how to proceed with ownership of a property when a couple separates. For example, instead of selling the home and jointly dividing the proceeds, one of the partners could buy the other out and take complete ownership of the home. So long as you have the necessary funds to buy your partner's share in the house, this can be a solid financial decision and you can decide alone when you'd like to sell the home after you have completed the process of buying them out of the property ownership.
✅ Can I delay selling the house if my ex-partner agrees to postponing a sale?
Absolutely, and that's one of the reasons why you might want to consider a Mesher order through which a court will approve an agreement that your house or flat not be sold until some future date or event has occurred. There's no deadline for selling your home after you decide to separate from your partner, so if both you and they agree to postpone a sale then you can.
✅ Will it cost me money when selling my house due to separation?
It doesn't have to. As the guide above makes clear there are fees associated with selling your house through an estate agent or if you try to sell it at a property auction. However, you can avoid fees completely if you decide to sell your home to a fast property buying company. These businesses never charge homeowners fees for selling, which is the best financial result for you because it means your final sale price is the amount of profit you get to keep for yourself.
✅ What's the easiest way to resolve an outstanding mortgage on our home when separating?
If you and your partner bought your home together with a joint mortgage you'll need to resolve this when you separate. The monthly repayments will still be due even after you divorce, and if it's a joint mortgage you'll share legal responsibility for paying them. If either partner falls behind with paying the monthly instalments this can hurt your credit score and, in the worst situations, lead to repossession of your home. Perhaps the easiest solution is for either you or your partner to take over complete ownership of the mortgage if they know they can make the payments.
See what we can offer?
Let us show you what we can pay for your house
We're rated as Excellent
Reviews.co.uk provide independent reviews from other people just like you!
"Successfully sold two properties direct to LDN Properties in the last two years. Genuine and trustworthy people and the dealings were straightforward." – Thomas from London
Cash offer for your house

LDN Properties Limited, Linen Hall, 162 Regent St. London W1B 5TD
Company No. 04636129. ICO No. Z7733416. Ombudsman No. D12463.
Copyright 2003 to 2023