Financial Difficulties
If you're experiencing financial difficulties, one possible solution is to talk with us about selling your home so that we can quickly make you a fast cash payment with no fees.
Quick navigation
There are many reasons why people can get into financial difficulties, which refers to situations where they suddenly are no longer able to meet their obligations for paying debts. Whether it's a minor short-term problem in paying one utility bill or whether it's a major and longer-term issue such as being unable to meet your monthly mortgage payments, it can be a very stressful time.
The first thing you need to understand is that there is nothing to be ashamed about if you are facing this situation. Try to relax and understand that often no matter how bad you might think your difficulties currently are, there's typically a solution to get you back on the right track. And for many homeowners the simplest strategy is to put their property up for sale.
Selling your house when you're having financial problems can be a great way to quickly obtain a large amount of cash. These funds can then hopefully be used to pay off, or significantly reduce, whatever debt you are currently struggling to pay. Our team of experts has written the below guide to offer information on selling when you are experiencing financial difficulties.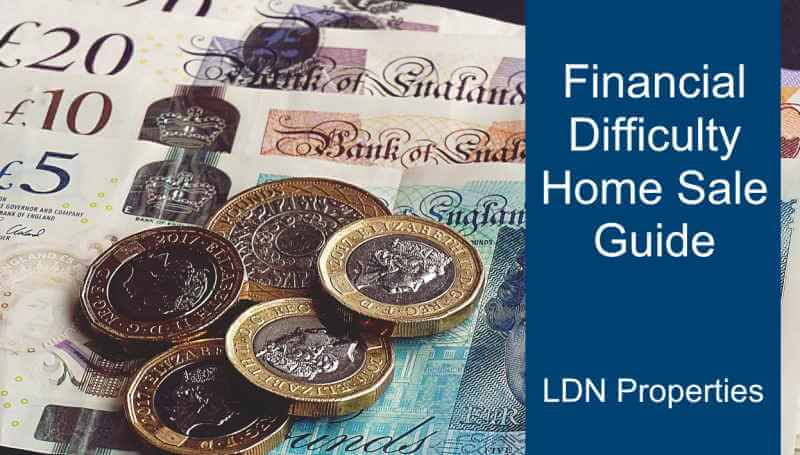 Why financial difficulties might require that you sell your house or flat
Whatever your urgent financial need, not being able to pay your bills can have many immediate repercussions. And perhaps the greatest threat that people in these situations can face is the potential for having their mortgage lender foreclose on their house or flat.
Repossession of your home is unfortunately an entirely legal and very stressful action through which the financial entity that provided you with a mortgage for your property attempts to take over ownership rights of the home when you fall behind on your monthly mortgage payments. Financial difficulties can sometimes take a long time to fix, but unfortunately some lenders are very impatient and will repossess quickly.
That situation is among the leading reasons why people might need to sell their house or flat quickly, because there are very few assets (tangible items of value) other than a home that people have that can generate potentially hundreds of thousands of pounds through a quick sale. Most assets are much smaller in value and typically won't cover major financial debts.
Having such speedy access to a large cash influx can help you not only stave off repossession, but possibly can cover the cost of any other type of bill that is lingering unpaid.
Steps homeowners can take when experiencing financial difficulty
If you find that you're having major financial problems that are hindering you from, for example, being able to pay your monthly mortgage instalments then you have several options.
The council for the London borough of Hackney has compiled a useful financial difficulties list for homeowners in such situations that could help avoid the need for having to sell your home. Below you'll find a short summary of the steps that you might want to consider taking if you're having money problems.
Call your mortgage lender to discuss repayments
If you're struggling with making your monthly home mortgage payments, one potential option is to call the company that provided your loan. Although some lending businesses might not be willing to negotiate with you, others might. You could potentially secure a deadline extension for payment, or even agree to a lower manageable repayment rate.
Look at your budget and make necessary cuts
If you're having larger money problems that you are thinking about selling your home quickly, you need to reassess your finances. Write down a comprehensive budget that lists all of the money you take in each month and the amount that leaves to pay for bills. See if there are ways you can cut back on certain expenses that could free up much-needed cash to pay for your mortgage instalments or other charges.
Review any loan or mortgage documents to find payment protection provisions
Some mortgage lenders offer homeowners payment protection, which is a provision in a loan that will typically give you a temporary reprieve from having to meet your monthly payment if you are suffering difficulties. These problems will often be specific in the terms of the mortgage agreement and will include situations such as loss of a job. Check your loan documentation to see whether you could take advantage of such cover.
Fight any repossession attempt in court
If your mortgage lender sees that you have missed a few monthly payments and decides to try take ownership of your home through the repossession process, you could consider challenging this in court. You can generally get a professional to advise you in such situations, and it will ultimately be up for a judge to decide whether to foreclose or not. If you can make a coherent and strong argument for how you can get out of your current debt problem and avoid foreclosure, the judge might ultimately side with you against the lender.
Consider asking friends or family for help
Whilst this is not an ideal approach, sometimes you can address your money difficulties by reaching out to family or friends to ask them for help. Perhaps you have a history with a particular family member or friend who has helped you in dire financial situations in the past. Or perhaps it's your first time asking for much-needed support from friends and family. Whatever the situation, if it is your only option you might want to consider it.
Ways to sell your house or flat when you're having financial difficulties
If you have decided that the best strategy for addressing your financial problems is to sell your house or flat, you have several options for how to secure a buyer. Each choice has its own potential costs and benefits, so closely read below for further details on what to expect from the top three choices to decide which of the options best suits your personal needs: selling at auction, selling via an estate agent, and selling to a fast property buying company.
Selling your home at auction
As with other ways to sell your home, there are various pros and cons of selling at auction. When you sell through this route, a professional auctioneer business will handle key steps such as writing and marketing a listing that advertises your property. The listing will include the minimum opening bid that the auctioneer believes you should ask for on the sale day. However, beware that some auction companies will try to persuade you to commit to a low reserve price to ensure the sale of your property happens. Bear in mind that a closing bid is considered a binding sale, so as soon the auctioneer lowers their gavel your house is legally deemed as sold. If the final value was far below what you needed to address your financial difficulties, selling this way will have done nothing other than to exacerbate your current problems.
You also need to consider the fact that auctioneers will charge you fees for selling your property. This pays for all the work of promoting and holding the sale of your home. This naturally can cut into the total profit you will make from your home, which can be very problematic if you're having money problems and need as much cash as possible. However, you should know that whilst you will be liable for paying such costs, some homeowners that sell at auction are able to get the successful buyer to agree to pay for some or all of these costs as part of the sale contract. That would mean you could keep all of the profit from the sale because you won't have to deduct any fees.
Selling your home via an estate agent
Estate agents are seen by some homeowners as the most traditional way to sell their house or flat. When you sell via this route, the estate agent will give you their valuation of what price they think they can get for your property. If you like what they tell you, they will then take photos of the rooms in your house and write a listing for potential buyers to see that they will post in their office, in local newspapers, and online. That's a lot of hard work that it could cost you a lot of time to do. And if you're already stressed from your financial situation you might be relieved an estate agent can handle your sale.
The estate agent will also take care of organising and hosting viewings, which is where potential buyers come to your house or flat for a tour and to decide whether they actually want to purchase your home. These can be awkward and stressful for homeowners to host, so having a professional take care of this can also be a good way to reduce stress.
However, there is no guarantee of when a home sold this way might actually find a buyer. Auctions and fast property buying companies give you a fixed date for when your home will sell, and typically in the very near future. But there are no deadlines associated with selling your house or flat through an estate agent. Properties can go unsold for weeks, months, and in certain cases a year or more. If you have decided to sell because of financial problems you probably can't wait at least 12 months for a sale, as you'll need quick access to the profit you expect from selling your home.
And much like auctioneers charge homeowners fees for handling the sale of their property, estate agents do just the same. All of the work they do listing, marketing, and hosting viewings for your property costs them time and money and they will charge you for that once the sale is complete. The consumer advocacy organisation Which? in a 2019 report found that on average an estate agent in either England or Wales is expected to charge 1.53% of the final home sale value, including value added tax. So if you sell this way you'll have to subtract those fees from the ultimate safe profit you can expect to receive.
Selling your home to a quick property buying company
There's a third option for selling your home that can not only help you find a fast buyer but also to keep all the profit from the sale and use that toward paying down your debt and fixing your financial issues: selling to a speedy home buying business.
These companies can be a great and swift solution to major personal problems, because they can typically finalise the purchase of your home in just a few weeks. That compares very favourably to auctioneers who could postpone the auction day for the sale of your home, and to estate agents that can take many months to find a buyer for your home. Financial difficulties generally mean that you need to identify the quickest possible access to funds, and that's why this option for selling might be the most sensible.
Another huge benefit of using a fast property buyer for your home when you're having money problems is the fact that you get to keep all of the profit from your sale. The honest quick home buying businesses will never charge you any fees for selling your property, meaning that you get to keep every penny of your home's final sale value. That leaves you the biggest possible amount of money to help paying off your debt.
And you can trust the property buying company so long as you confirm that they are a member of a reputable trade body such as The Property Ombudsman (TPO). This is an independent entity that oversees the fast home buyer market to ensure that customers are treated fairly. TPO issues various regulations that its members must follow, and they aim to protect homeowners from disreputable swift house buying companies.
FAQs about selling your home if you're having financial problems
✅ Why is selling a house seen as a good solution for financial difficulties?
Because it can provide you with a significant amount of cash in a short amount of time. If you sell your home you can use the profit that you make to help pay off or greatly reduce whatever debts have led to you experiencing financial problems. There are very few other ways to get such a large amount of funding in a short period of time, and if you sell to a no-fee quick property buyer you not only get the cash fast but you get to keep all of the profit from selling.
✅ Why are fast buyers better than other options for selling when in financial strife?
Your alternative options to selling to a fast buyer are working with an estate agent or an auctioneer. Whilst both those choices are certainly viable and are responsible for many home sales every year, they might not be the ideal option if you're suffering from financial strife. That's because both estate agents and auctioneers will charge you fees for selling your home, and you'll have to deduct those fees from whatever final sale price they are able to secure. In contrast you'll never pay any fees to a reputable fast property buying company, which means you can plan on keeping all of the profit from your sale to help pay off your problematic debts.
✅ Can I just wait a few months to see if my financial situation improves before selling?
Unfortunately not. If you are having significant financial hardship that is making you think about selling your house or flat for a quick supply of cash, you probably can't wait for two or three months whilst you hope that your situation improves. That's because mortgage lenders might not be generous with understanding your current problem. Some may attempt to head towards repossession if you miss one or two monthly loan payments. Your priority in such situations should be on finding fast access to cash, which is typically through selling your home.
✅ Does selling my home because of financial problems prevent me from buying a new house?
No. There is a possibility that if you miss mortgage payments it could lower your overall credit score, which in turn might make it slightly harder to secure a mortgage agreement from some financing companies for a future house purchase. Just be sure to plan properly for a future purchase to guard against the same financial problems potentially occurring at your next house or flat.
✅ Is it always certain that I have to sell my house if I'm having big financial difficulties?
Not at all. There's nothing that says you must sell your home in order to resolve whatever difficult financial strife you're currently experiencing. When the problem begins you should make a comprehensive list of all your expenses and income, as well as a reason for the difficulties began. Take time to carefully assess your budget and see potential options that you might have for reducing spending that is unrelated to your monthly mortgage payments. It's possible that with some budgetary adjustments you could, for example, get back on track with your mortgage payments and avoid ever having to try and find a buyer for your current home.
See what we can offer?
Let us show you what we can pay for your house
We're rated as Excellent
Reviews.co.uk provide independent reviews from other people just like you!
"Successfully sold two properties direct to LDN Properties in the last two years. Genuine and trustworthy people and the dealings were straightforward." – Thomas from London
Cash offer for your house

LDN Properties Limited, Linen Hall, 162 Regent St. London W1B 5TD
Company No. 04636129. ICO No. Z7733416. Ombudsman No. D12463.
Copyright 2003 to 2023